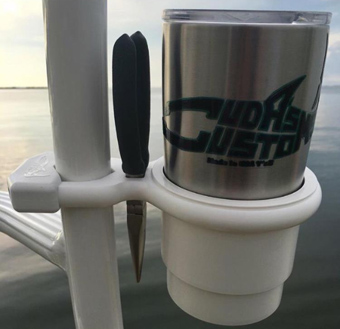 (comes with a pliers slot)
Large cup fits a can with a foam koozie or, up to, a 24 ounce tumbler.
Large Cup Dimensions:
Outside width 4 inches, inside width 3 1/2 inches.
Total cup depth is 3 1/4 inches, including the 15/16 inch recessed bottom
The UV protected cup insert is removable for easy cleaning or you can use the holder without the cup insert, using just the ring, for large Tervis® type tumblers and Yeti® Cooler containers.

Durable high quality completely weatherproof marine accessories made of long lasting UV protected marine grade polyethylene and calcium carbonate to ensure they last for years in harsh outdoor elements.


Clamp Sizes
The smaller universal clamp fits from 1 1/4 inch outside diameter to as small as 3/4 inch OD.
(Smaller supporting pipe work & hand and grab rails)
The larger universal clamp adjusts to fit pipe sizes from 2 inch outside diameter to 1 1/2 inch OD.
(Fits most T-tops and Towers main support pipes).

Stabilized to resist saltwater, chemicals, and UV damage. It will not breakdown, mold, rot, or delaminate and cleans quick and easy.
Once installed, our holders will rotate 360 degrees around your pipe to any position desired but will not migrate down the pipe without force and will cause no damage to the pipes or powder coating they are mounted on.


They can withstand a lot abuse and with no moving parts, they are extremely tough and durable.
Click here for printable ruler.

You need 1 inch clearance for the back V half of holder for those tight spaces in between the grab rails, windshields and consoles.
Pipe size chart.
Included with your custom holder is the removable UV protected cup inserts and two 316 marine grade stainless steel phillips mounting screws.

Pat. No. 9194407
Shipping Notice: Because all of our marine drink holders are custom made, normally your order will ship within 48 hours.
However on rare occasion some products may take 3-4 days before orders are shipped. Thank you for understanding.
Please double check your measurements for your clamp-on drink holders. We want to be sure you order the correct size for a nice snug fit. We don't want y'all to have to pay all that extra shipping to get it to us and back to you again.
Please print the ruler or call us if you need assistance, 866-730-1524.
Thank you. Tight Lines!!!
All Holders are Invented, Custom Made, and Manufactured, by us Cuda's Customs, Right Here in the USA.